www.yna.co.kr/view/AKR20200618050000005?section=search
The Cultural Heritage Preservation Science Center of the National Cultural Heritage Research Center of Korea said on the 18th that it will begin preservation of mural paintings in Josadang Shrine of Buseoksa Temple in Yeongju-gun County, Gyeongsangbuk-do Province.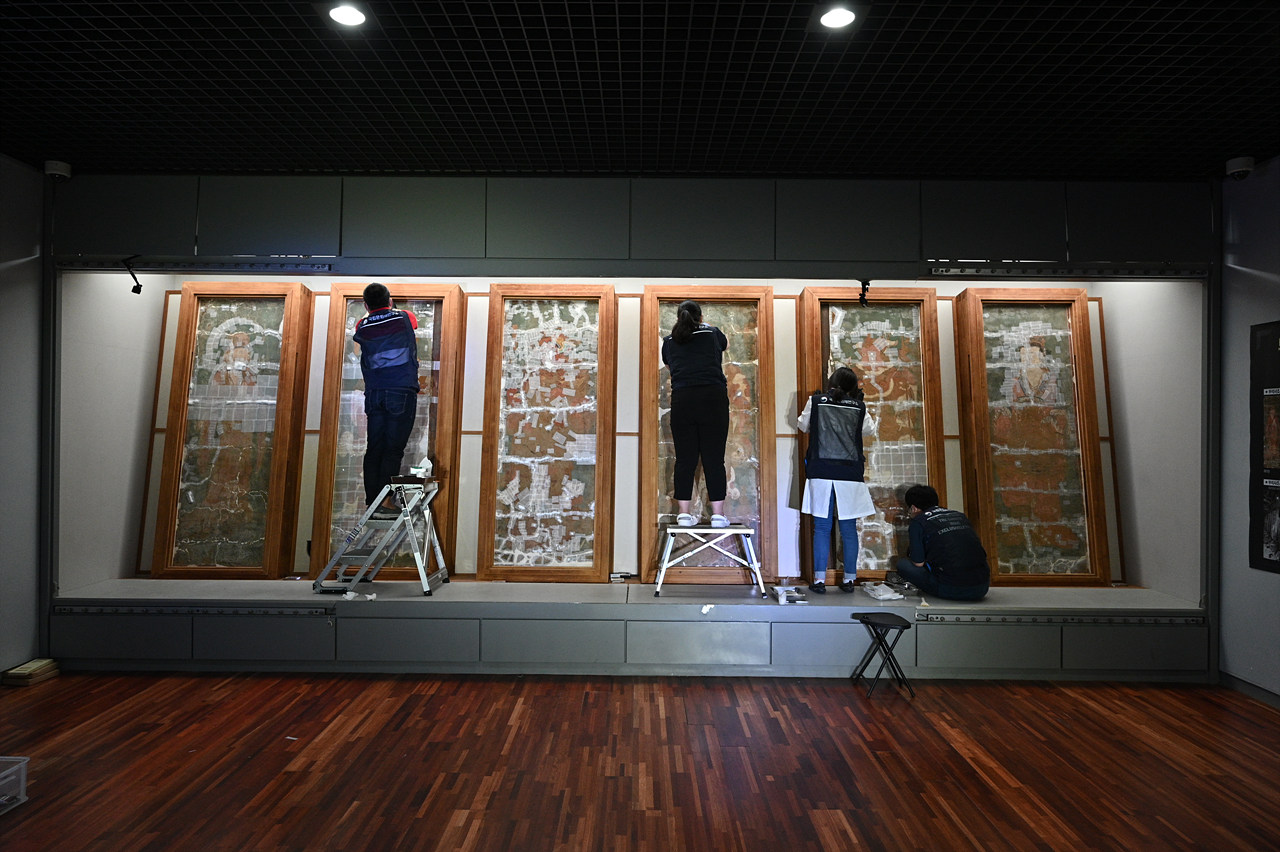 Decorating the walls of the shrine in honor of Uisang (625-702 AD), a Silla period Buddhist monk who founded the temple in 676, these murals depicti six Buddhist deities, Four Guardian Kings, Brahma Deva, and Indra in six folds.
It is unclear when these paintings were drawn, but it is considered to have been made in 1377 (the 3rd year of King U of the Goryeo dynasty) when the Josadang Hall was built.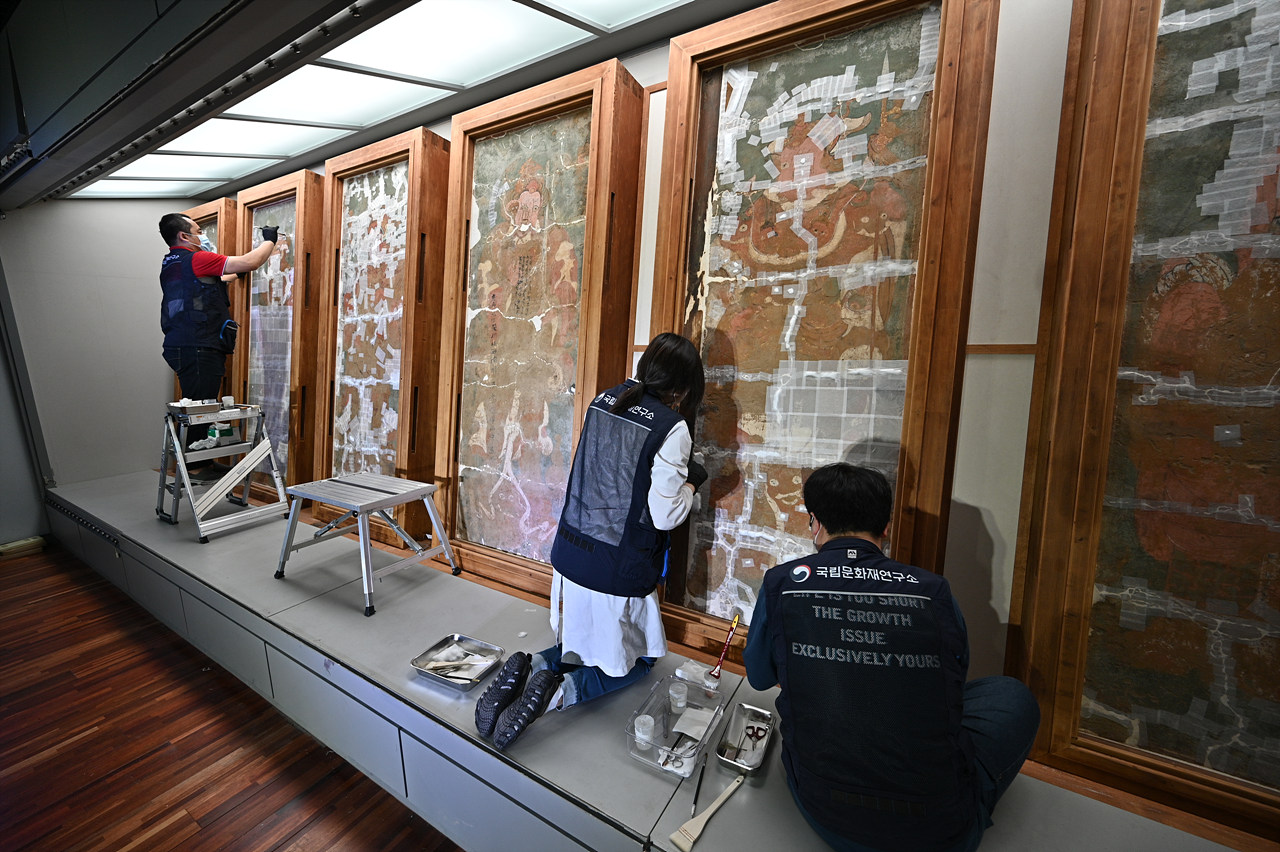 Dismantled and separated from the walls in 6 folds around 1916, during the Japanese colonial rule, these murals were reinforced with plaster and put on a wooden protective frame, and has been stored and displayed in the temple museum.
The murals have been now contaminated with plaster, the coloring layers peeled off and elevateded parts also observed. Structural damage is also serious.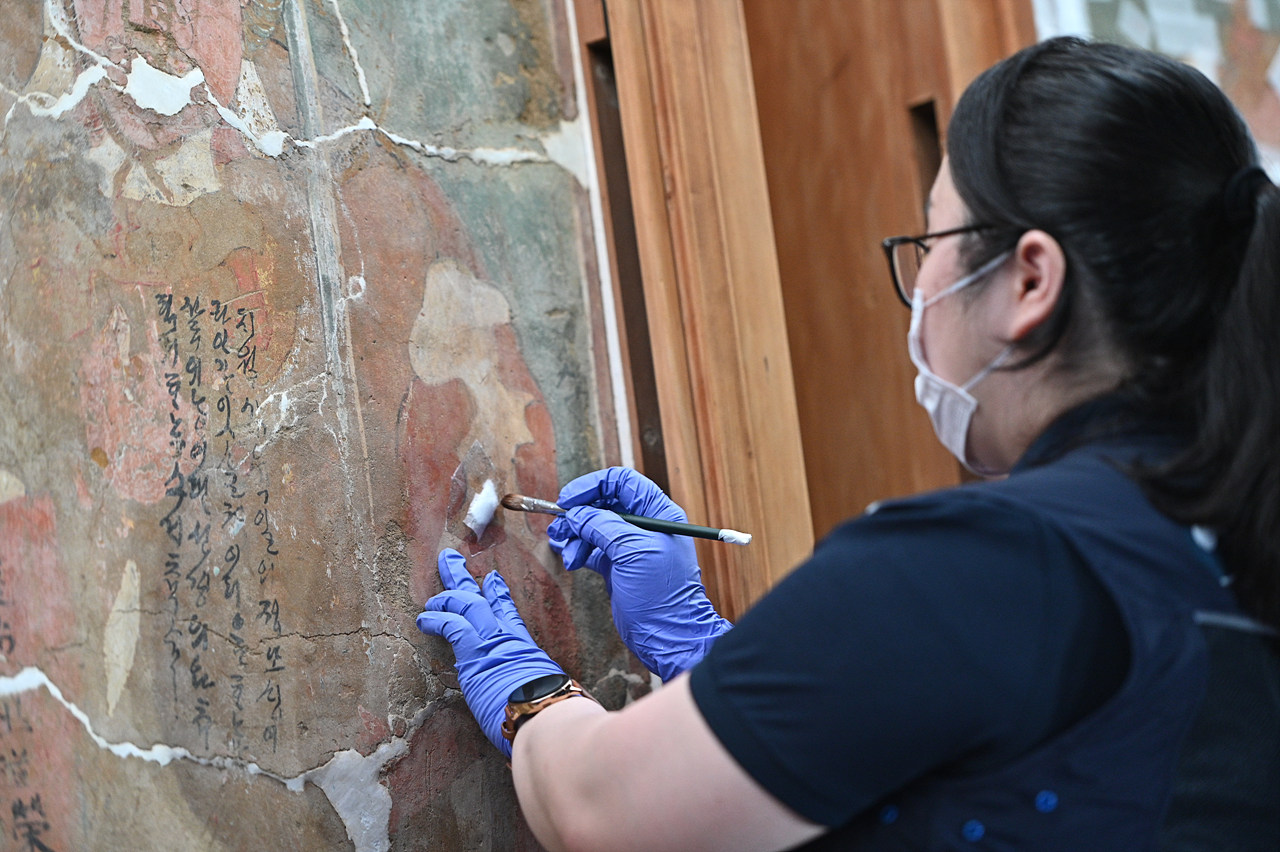 The murals will be transferred to the National Institute of Cultural Heritage in Daejeon, where the status of the damage and its causes will be investigated.

Subsequently, mural preservation processing is in progress, and research on the structure of walls in the late Goryeo period, mural production techniques, and materials is carried out in parallel.

Conservation and research will continue until 2026.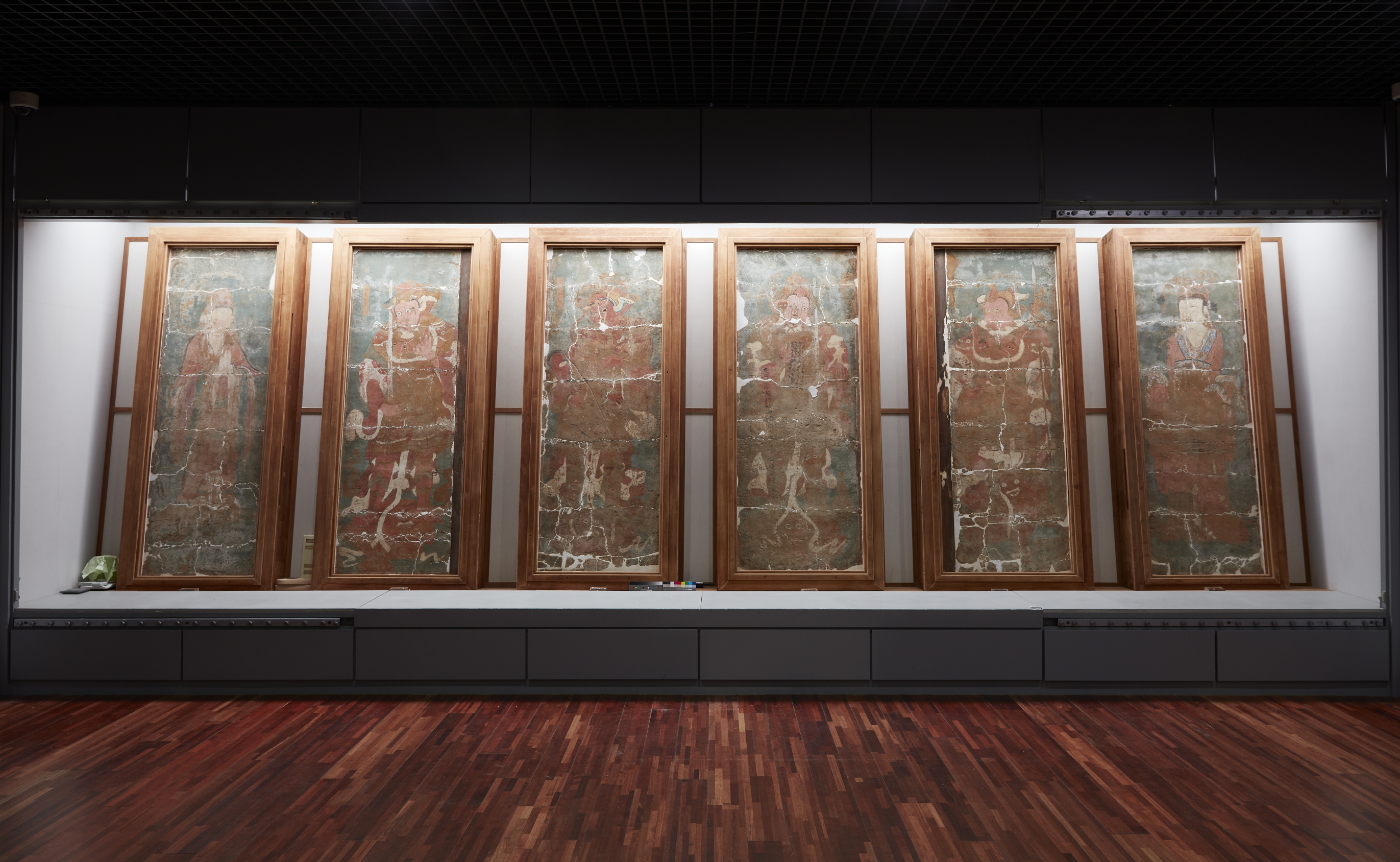 고려 우왕 3년(1377)에 부석사 조사당을 건립하면서 그 내부 벽체 구성물로 제작된 것으로 짐작되는 벽화 6폭이 오는 2026년까지 대전에 있는 국립문화재연구소 문화재보존과학센터로 옮겨져 보존처리와 연구가 진행될 예정이다.
현존하는 가장 오래된 불화 벽화로 알려진 부석사 조사당 벽화는 불교 수호신들인 제석천帝釋天과 사천왕四天王, 범천梵天을 그린 것으로 식민지시대인 1916년 무렵 해체·분리되어 현재는 이곳 성보박물관에서 전시 중이었다.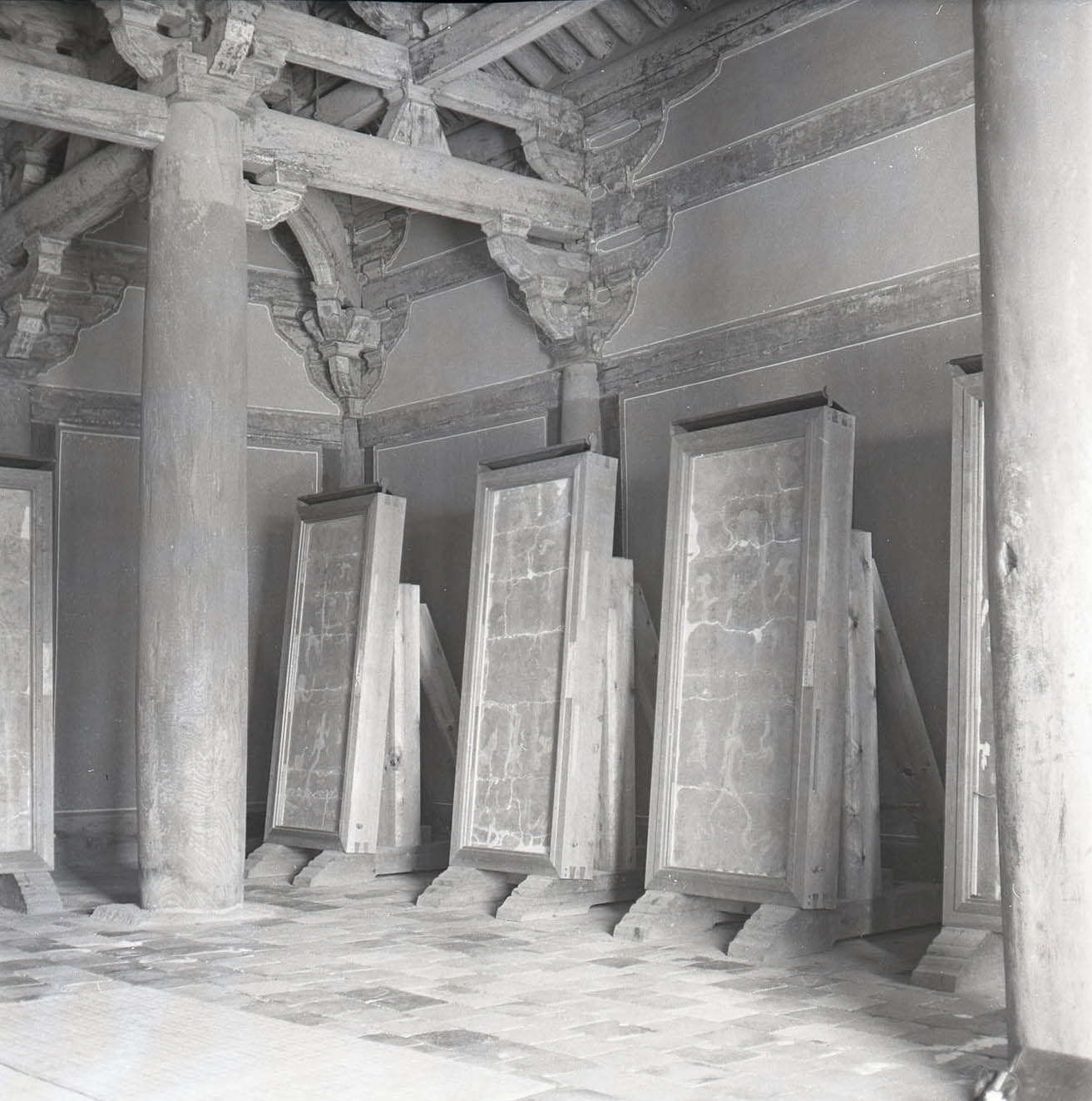 National Treasure 46
Mural Painting in Josadang Shrine of Buseoksa Temple
Quantity : 6 faces
Designated Date : 1962. 12. 20
Age : Late Goryeo Period
Address : Gyeongsangbuk-do Yeongju-si

Depicting six Buddhist deities, Four Guardian Kings, Brahma Deva, and Indra, these mural paintings had been displayed on the inner wall of the Josadang Shrine (National Treasure No. 19) in Buseoksa Temple, which was built to honor Buddhist Monk Uisang (625-702), founder of the temple and Avatamsaka School in Korea.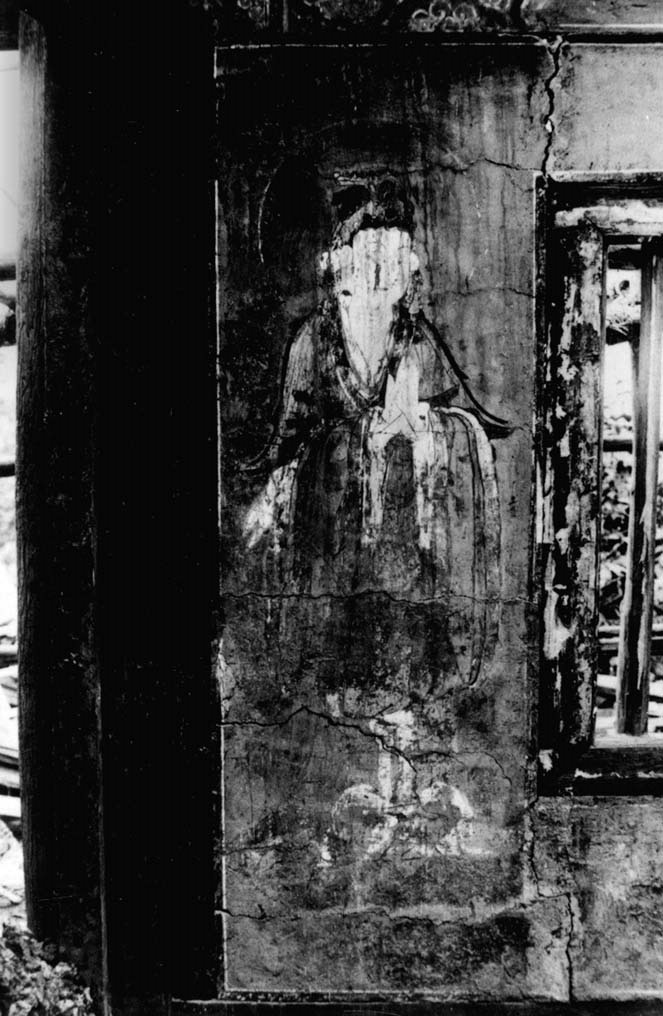 The paintings had been taken along with the wall from the shrine and are currently kept in glass boxes and stored in Muryangsujeon, the main prayer hall of Buseoksa Temple.

Each mural work is about 205 centimeters long and 75 centimeters wide and is painted using red, white, and gold pigments on an earthen wall painted green.

The two deities on both sides feature an elegantly voluminous body, whereas the Four Guardian Kings in the middle are stepping on demons, with robust builds and staring eyes.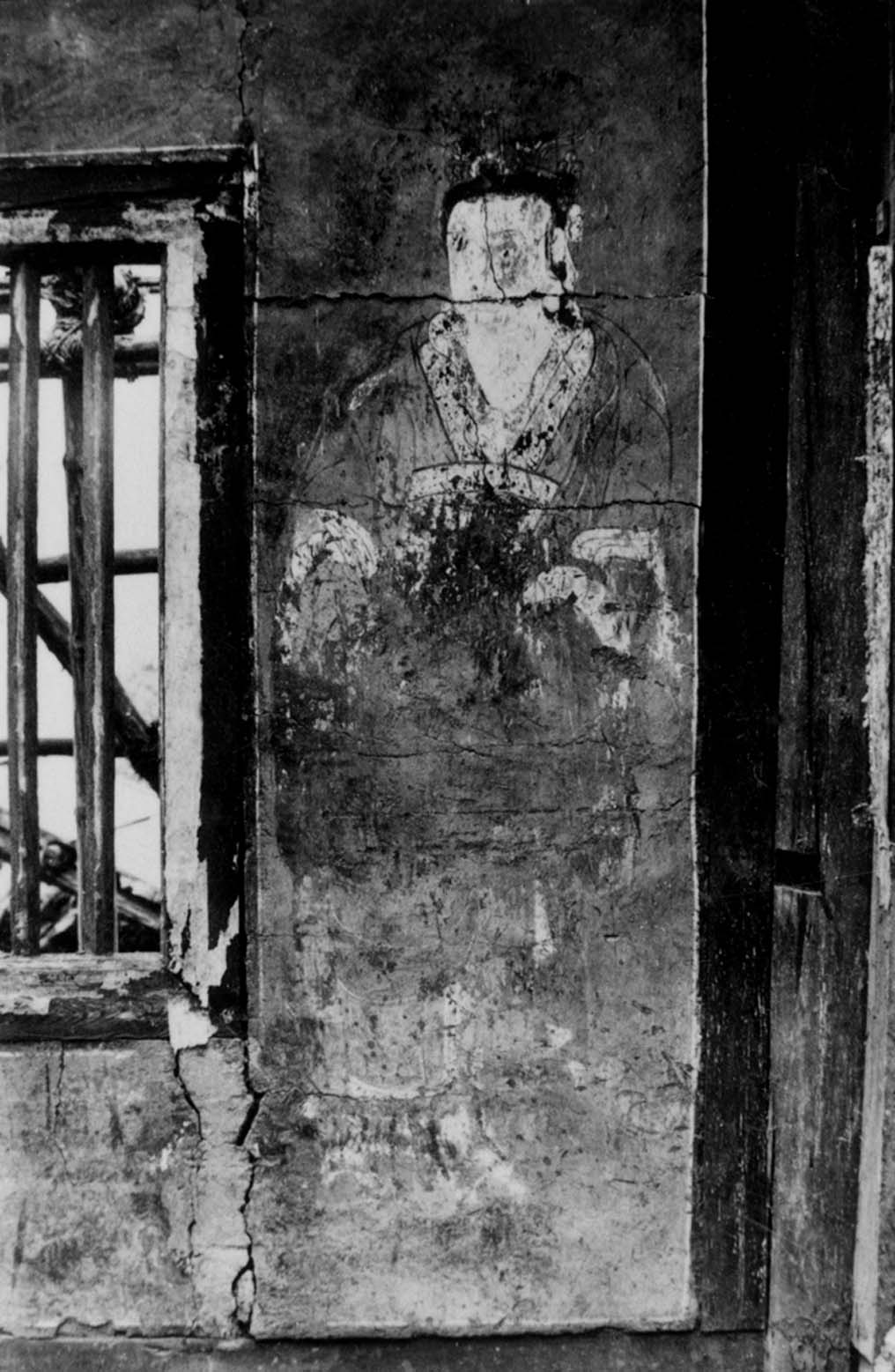 The paintings have been damaged to a rather considerable extent, losing much of its original condition due to repainting by later generations; nonetheless, the remaining dynamic brush strokes provide valuable clues to an outstanding artistic achievement made in Korean Buddhist painting during the Goryeo Period (918~1392). An old record discovered at the shrine revealed that it was built in 1377, suggesting that the paintings were also produced around that same year.

These works are known as the oldest existing Buddhist murals and are accordingly regarded as important assets in connection with Korean art history. (From the Cultural Heritage Administration)